Description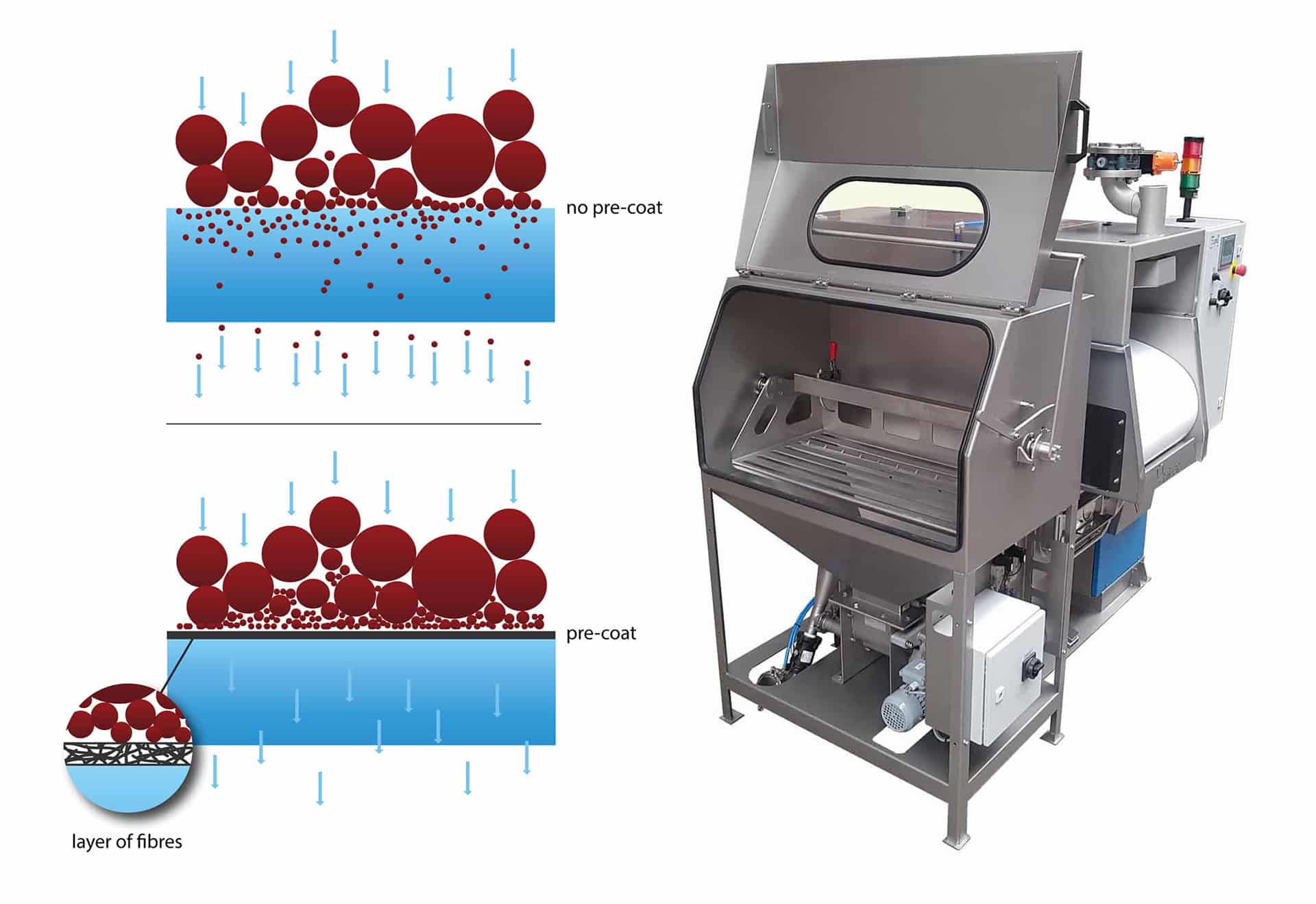 Pre-coat Filtration, for filtration down to 1µm (optional)
Pre-coat Filtration is a high-end filtration method for removal of small particles from contaminated media. Cellulose fibres are actively added to the medium inside the Q-Filter®, building an additional specific filter layer on the filter cloth. This layer improves the filtration significantly because it enhances the formation of the so called 'filter cake'. As a result, filtration down to 1µm will be achieved. It also prevents clogging of the filter cloth, caused by small particles.
Pre-coat filtration can be added to a Q-Filter® by simply placing a standard module next to the Q-Filter. All connections are available for easy integration.
The Pre-coat Filtration module is very easy to operate. The fibres come in 20kg paper bags and by opening the cabinet, one bag can be easily placed on the grid and clamped into position. Dosing the fibres happens automatically while the control system communicates with the Q-Filter®.
The Q-Filter® 150 series
Model
QF150
QF300
material

ss 304

ss 304
length

1600 mm

1600 mm
width

1250 mm

1750 mm
height

1910 mm

1910 mm
weight

550 kg

850 kg
capacity
15 m3/h
30 m3/h
width filter cloth

500 mm

1000 mm
pump capacity

**

**
power supply

1 kW*

2,5 kW*
vacuum capacity

-200 mbar

-200 mbar
*

   

without return pump

**  depending on application
The Q-Filter® 300 series
Model
QF150
QF300
material
ss 304
ss 304
length
1600 mm

1600 mm

width
1250 mm

1750 mm

height
1910 mm

1910 mm

weight
550 kg

850 kg

capacity
15 m3/h
30 m3/h
width filter cloth
500 mm

1000 mm

pump capacity
**
**
power supply
1 kW*

2,5 kW*

vacuum capacity
-200 mbar

-200 mbar

*

   

without return pump

**  depending on application